InSitu Vertical Mill Liner Seat Table Machining & Grinding
Vertical mills operate under extreme loads and therefore the liner seat table wears over time.
The liner pads may crack or brake and therefore affect the stable operation and efficiency of the griding rollers since the liner pads can not lean on a flat surface.
Özek Makina provides this very spesific in-situ resurfacing service for the liner seat table at all sizes of vertical mills with devoted workmanship, smooth final surface and in accordance with the planned schedule.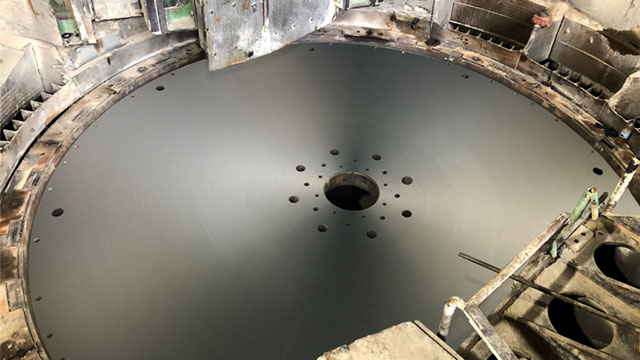 Experience
Ozek Makina has provided more than 400 individual services at 100 plants across 25 countries since 1968 and gained a remarkable rotary kiln service experience.
Self-Devotion
We are on site with our team who can judge the problem from different perspectives,  lucubrate with higher effort to perfect the solution and work parallel to the planned revision schedule.
On Site On Time
Our main goal is to help you to keep the kiln rotating hassle free. We focus on arriving at the plant with our tools in days time. Our engineering and logistics team is ready for any international call.
World Wide Service
After servicing almost all Turkish plants, we have proudly serviced for more than 100 plants across 25 countries in a wide geography from America to Vietnam. We guarantee %100 customer satisfaction.