On Site Machining & Grinding Services
for Tyre, Roller and Thrust Roller at up to 3,5 rpm
Ozek Makina provides on site machining and grinding services for tyres, rollers and thrust rollers of rotary kilns, rotary coolers and dryers, granulators and agglomerators in cement, gypsum, fertilizer, feed and petrochemical industries. We machine and grind the tyres and rollers at the same time and can work at up to 3,5 rpm for rotary kiln tyres and up to 5,0 rpm at rollers. We can clean out deepest pitting, conical, concave, convex or wavy wear profiles by our patented mobile machining and grinding technology.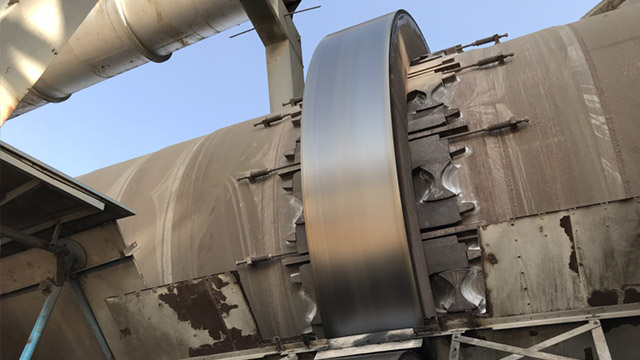 Service at 3,5 rpm
We can resurface your tyres and rollers in normal operating conditions. There is no need to stop the kiln or even no need to slow down in some cases.
Machining & Grinding
Thanks to our patented mobile machining and grinding technology we can solve surface problems of tyres, rollers and thrust rollers in any level.
Following the Diameter
We measure and report the diameter and local deformation before, during and after our resurfacing services to decide next necessary actions.
Alignment After Resurfacing
We skew the rollers to tolerate the machined new diameter if necessary and provide hot kiln alignment and on site resurfacing services together.
Experience
Ozek Makina has provided more than 400 individual services at 100 plants across 25 countries since 1968 and gained a remarkable rotary kiln service experience.
Self-Devotion
We are on site with our team who can judge the problem from different perspectives,  lucubrate with higher effort to perfect the solution and work parallel to the planned revision schedule.
On Site On Time
Our main goal is to help you to keep the kiln rotating hassle free. We focus on arriving at the plant with our tools in days time. Our engineering and logistics team is ready for any international call.
World Wide Service
After servicing almost all Turkish plants, we have proudly serviced for more than 100 plants across 25 countries in a wide geography from America to Vietnam. We guarantee %100 customer satisfaction.